Among the factors that influence the choice of a suitcase, the color is one of the most important elements: as well as the baggage performance, indeed, shades play an important role, which make the suitcase more or less recognizable and representative.
About this topic, it's impossible do not refer to American Tourister suitcases, whose collections range from sober colors as black, gray or dark blue to the most vitaminic shades as yellow, red or electric blue. The colors and the design of American Tourister trolleys conquer every kind of traveler, free to express their own personality also with its baggage.
From cabin size for frequent flyers to medium and large size for long journeys, American Tourister luggage meet the travelers' needs in comfort and functionality terms, offering a wide range of hardside and softside suitcases.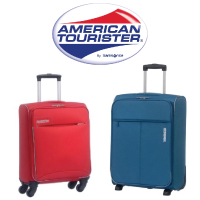 Softside American Tourister trolleys are characterized by strength, lightness and capacity, avoiding to sacrifice the content of the baggage according to size and weight restrictions provided by low cost airlines. American Tourister cabin size trolleys are indeed calibrated to the size dictated by major airlines, making every trip even more enjoyable speeding boarding procedures.
Low prices and high functionality are the flagship of American Tourister trolley: the strength and elastic materials, solid structure and 360° rotation wheels make American Tourister trolley the perfect traveling companion, carrying the content of the baggage in a safe and comfortable way.
Keeping up with the evolution of luggage is difficult, luggage discounts are the perfect opportunity to purchase a new suitcase on sale. Our offers are a wonderful chance to renew your set of luggage or to make a nice gift taking advantage of incredible discounts, making the purchase of a new suitcase even more enjoyable.
The seasonal sales offers the opportunity to purchase high performance American Tourister suitcases at reasonable prices, real occasions to buy a practical and comfortable item.
Our American Tourister suitcases on sale have the perfect strength for an adventure travel or for a pleasant relaxing escape: are you an adventurous traveler, a tourist in search of relax or a last minute globetrotter? In any case, American Tourister suitcases are ready to satisfy your needs.