The name Samsonite reminds travel, adventure, exploration. The iconic brand of luggage side us in our journeys for years, whether for work as a business trip or pleasure, as a nice vacation in an exotic location. As always, the brand offers trolley for every need, and perfect for every experience.
From comfortable and relaxing escapes to professional travel business, through exotic and adventurous scenarios, the aim of the industry is to satisfy any need with a wide range of backpacks, totes, bags, folders and fantastic carry on spinners and suitcases, of course.
In particular, Samsonite has become famous in luggage field: Samsonite suitcases range from compact carry-on spinner and boarding bags as hand luggage, to larger wheeled suitcases characterized by an exceptional capacity, allowing travelers to bring everything they want.
Hardside or softside suitcases, every taste in satisfied also regarding color range and materials, which are the result of a continuous excellency research: one example is the famous Curv technology, with carry-on spinners characterized by a high resistance without compromising the lightweight of the luggage.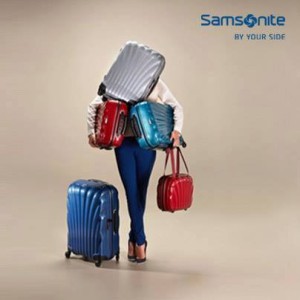 All the Samsonite technologies applied to luggage allow every traveler to organize their journey without having fear of weight or unpleasant damages: Samsonite spinner, thus, provides a new comfort level, now fundamental in all circumstances.
Samsonite continues nowadays to offer increasing quality and innovation, interpreting trends and travelers needs: this is a great proud of Samsonite brand. All Samsonite products are subjected to the most severe quality test, without leaving out the smallest detail.
Indeed, Samsonite researches are focused on the impact strength, the maneuverability, the performance of 360° wheels and security closures, without leave anything to chance. But the real final tests are the travelers.
People have always given more than positive feedback on Samsonite spinners, mostly because the rational organization of interiors: dividers and padded compartments allow travelers to carry all the content of the luggage in a comfortable safety. Another characteristic often claimed by customers regards the lightness: Samsonite spinners are resistant but light, perfect for low cost companies and their weight and size restrictions.
Samsonite luggage are the benchmark for all journey lovers, explorers, career travelers and vacationers. Samsonite spinners side us in our movements ensuring comfort and functionality in every circumstances. There's just one limit, and it's the horizon: overcome it with the luggage that is best for you.