What does it mean to travel? This is the theme of the new Samsonite video titled Travel lighter to go further, greeting the hot season pointing the beauty of the journey and the taste of the travel, regardless of destination.
The video, shot between Thailand and Venice, shows scene of dreamy and heavenly journeys, having as the central protagonists Samsonite spinner that, with their lightness and strength, are the trusted companions of every globetrotter.
Whether it's a romantic getaway or an adventure, Samsonite spinner are comfortable and functional in every step of the journey, satisfying travelers' needs.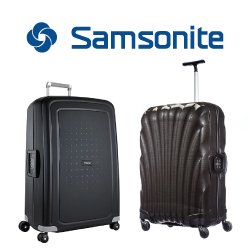 At the top of Samsonite luggage there are Lite-Locked and S'Cure collections, characterized by two different uses of polypropylene, light and durable, perfect for the production of high-performance suitcases. Lite-Locked suitcases follows the Cosmolite tradition with the Curv® technology, based on a revolutionary material made of multiple layers of polypropylene, woven as a real fabric, ensuring to Samsonite spinners lightness, strength and also a great elasticity.
The rigid and lightweight material is combined with a three-point security system: the result is a collection of comfortable and resistant hardside siutcases, suitable for all types of travel and, in small version, compatible with the cabin measures.
Another innovative Samsonite material is the Flowlite, a different texture polypropylene that allows the use of thing injection molds, perfect for production of light but strong shells. The Flowlite characterizes S'Cure collection of large, medium or carry on luggage which, as the name suggests, provide an adequate protection to travelers' stuff.
All the Samsonite technologies applied to luggage allow every traveler to organize their journey without having fear of weight or unpleasant damages: Samsonite spinners, thus, provides a new comfort level, now fundamental in all circumstances.
The video itself, indeed, underlines the importance to travel lightly and safe with all the comfort to be able to enjoy any kind of itinerary.
Travelling with a lighter luggage suggests a greater sense of freedom as in movements as in the chance to bring all travelers want, as well as memories of a wonderful holiday. In addition to rigid suitcases, Samsonite offers also a wide range of soft carry on luggages characterized by organized spaces, flexibility, design and original colors. Samsonite collection satisfying the taste of every travel lover, providing appropriate solutions for any circumstance, given the high standards of comfort, lightness and strength.
Whether Thailand beaches, Venice canals or your favorite destination, Samsonite suitcases are the perfect key to enjoy your journey.