Samsonite is one of the companies that have marked the evolution of luggage industry, thanks to the passion for experimentation and the innovative spirit aimed to satisfy travelers' needs.
Today as yesterday, the brand pursues the path of product innovation, always aiming towards new standards of excellence particularly about carry on suitcases: Samsonite laboratories are always working on new technologies and materials, reaching important goals and offering innovative products in term of comfort, lightness, design and performance.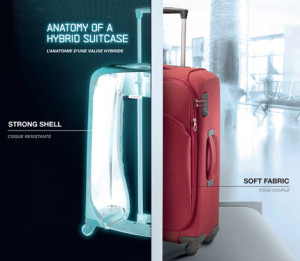 With the Advanced Hybrid Technology, for example, Samsonite combines the typical resistance of rigid suitcases with the lightness of the soft ones. Hybrid collections have a rigid internal structure covered with strong and durable fabric: this match allows the triple benefit of lightness, strength and flexibility.
Till talking of resistance, the technology Point Shock has to be mentioned: because of the presence of strong and durable polymeric shields printed on the surface, Samsonite suitcases are able to resist to scratches and abrasions.
In order to pursue the company goal, Samsonite has developed new materials, light and durable: this is the case of Curv® technology, which allows the production of suitcases characterized by lightness and an extraordinary resistance to impacts. As the most important result of the brand's ongoing researches, Curv® material consists of many layers of polypropylene woven as a real fabric: these sheets are characterized by exceptional lightness and strength, offering high resistance to impacts even at low temperatures.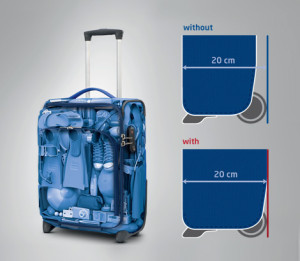 Samsonite carry on spinner looks always to the future, also regarding wheels: the Space Booster is a vanguard system that allows travelers to optimize the size of the cabin luggage through the opportunity of integrating the wheels in the back panel of the trolley.
The cured design and the attractive colors demonstrate that Samsonite looks also to beauty: the brand has won the "Best of the Best Reddot Design Award, the most important and prestigious design award.
Samsonite spinner represents the present and the future of luggage: for years Samsonite carry on suitcases has been with us around the world, and now the brand continues to do so in the most efficient and powerful way.
Hard suitcases, semi-rigid or soft, polycarbonate or fabric, large, medium or carry on luggage, the brand offers bags suitable for every occasion and its collection is declined a large variety of models, colors, shapes and materials able to suit the various needs of customers. What is the Samsonite suitcase most suitable to you?