Shopper bags are a must in every woman's wardrobe: comfortable, simple but sophisticated, shopping bags are the faithful companion of work and free time. Plain colored, fancy, big or small, no one can resist the charm of a versatile but glamorous at the same time handbag.
Speaking of versatility and glamour it's impossible not mention Guess, the American brand especially popular for its wide selection of handbags suitable for every occasion. Among Guess handbags, shopping bags are a spearhead, embodying the cool style that the brand wants to convey with practical but glamorous accessories.
Delaney is one of the spring/summer 2015 collections, Guess purses characterized by the recognizable geometric shape emphasized by contrasting stitching and a structured design. The saffiano material, then, is a real must-have of the spring-summer 2015 season, concerning wallet, handbags and small leather goods characterized by a feminine and classy style.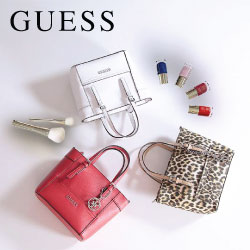 Guess handbags of Delaney collection are available in small, medium or large size, to meet every woman needs: from university or working mornings, to shopping afternoon till the most cool late hours, the design of Guess purses of Delaney bags makes these models versatile, feminine and glamorous in every context.
As we all know, a determinant of the choice of the perfect bag is the color: shades of Guess bags for women of Delaney collection marry with delicate perfection the simple but definite design of these models, emphasizing the concept of functional but glam women's bags.
From the ultra-matte red to the rock black, from the romantic pale pink to the shiny white through the lively cobalt blue, Guess purses of Delaney collection offer a wide range of tones, making them perfect to wear with a ton sur ton look or as a touch of contrast color to a style that will go not unnoticed.
Guess handbags shopping bags are not limited to Delaney collection: the wideness of the assortment that characterize the brand perfectly embodies the versatile and cool mood of every woman, ready to wear a special touch to a style to reinvent day after day. From the more bon-ton clutches to glam-rock shoulder bags, every woman can find in Guess collection the perfect purse.