A journey has many meanings: there are those who travel for work, those who travel to discover new horizons and possibilities, those who want a relaxing holidays and travelers who want to come back home. Whatever your type of journey is, there's always a partner that follows you everywhere: his name is Samsonite.
Samsonite carry ons are an absolute guarantee in luggage field, a landmark not just for serial traveler but for every person who love travel in comfort and safety. Samsonite company is one of the leader in suitcase production field, due to its wide collections responding to every need: carry on spinner, medium, large, hardside or softside luggage.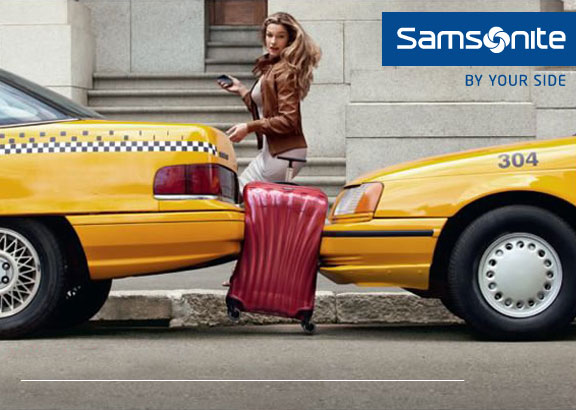 One of the most famous and innovative collection is Samsonite Cosmolite, characterized by an innovative technology that makes all Samsonite Cosmolite spinners light but resistant and comfortable.
At the top of the brand's collections, Samsonite Cosmolite have conquered audiences around the world due the exclusive Curv technology, a Samsonite exclusive patent.
Curv material of Samsonite Cosmolite derives from a special process that starts by dissolving pellets of virgin polypropylene, which are cast in thin sheets, cut into 1mm thin strips and subsequently drawn and woven as a sort of cotton fabric. This process allow the production of light, flexible and resistant hard-side shells.
In these products the distribution of interior spaces is flawless thanks to the separators which maintain order and laundry bags, perfect to preserve traveler's clothes or shoes. The integrated spinner handle, 360° wheels and TSA closure amplify the already high level of comfort of Samsonite Cosmolite luggage, making easier not only the transform but also the boarding procedures in case of low cost airlines travels.
Lightness, strength and large capacity are indeed the most important features of Samsonite spinner suitcaese of Cosmolite collections, perfect for international or intercontinental travels.
Recently Samsonite Cosmolite siutcases has win the Reddot Design Award "Best of the Best", a prestigious prize about innovative design: interior and exterior design in Cosmolite collection are cared as well as the technological features, with a high recognizable shell shape perfectly matched with iridescent vibrant shades of colors, from classic colors as black, grey or dark blue, to more vitaminic ones as red, green or turquoise.
Samsonite luggage, with Cosmolite collection, is one more time confirmed among the most important luggage industries, giving travelers faithful and lightweight journey companions: soft bags, travel bags, suitcases, hardside luggage, toilet kits, beauty case and all other accessories that are indispensable for those who like comfort, convenience and adventure.
Whether  it's a business trip or a vacation, every destination is perfect for a Samsonite Cosmolite spinner, suitable for any occasion. Sea, snow, mountain or…office? Choose your destination and the Samsonite Cosmolite that suits you.