Good morning and welcome to our meeting with the fashion world. Today we are going to talk about Guess handbags and purses, well known for their versatile style perfect for every feminine wardrobe. Guess bags offers a wide range of handbags and purses, all characterized by the typical urban glamour of the brand. Both classy and sporty, Guess handbags counts collections for every taste.
Delaney collection of Guess purses are made in saffiano leather, a particular texture that gives smoothness and elegance to its shoppers or shoulder bags.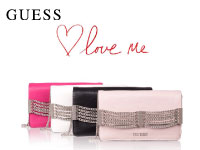 Laetitia purses are characterized by an elegant and bon-ton style emphasized by soft materials and metallic pearls and details. Guess handbags of Laetitia collections enrich with glamour every style.
Guess handbags of Ashbury collection are perfect for a rock style with its metallic chains and studs, perfectly matched with soft leather colored in black or camel shades. For a sporty style, Logo collection offers Guess purses and satchel bags with the recognizable logo pattern and original play of shades. Guess handbags are perfect for every occasion and style: the wide collections range from shoppers to clutches, from shoulder bags to bugatti bags, all of it characterized by the recognizable but versatile taste of the American brands. That's all for now, for more info or for some shopping, please visit our e-commerce website: www.scaliagroup.net. You will find our Guess collections and much more.