Piquadro, leader brand in business briefcases, is also protagonists of bags for women, thanks to the successful collaboration with Giancarlo Petriglia: the result is the new spring-summer 2015 collection of Piquadro handbags and purses.
Aurea collection of Piquadro handbags is characterized by an elegant and sophisticated mix of shades and leather: geometric shapes and gold details make this collection of purses particularly feminine and glamorous.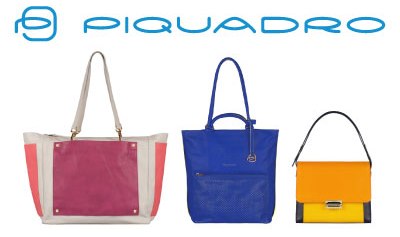 Casual and fancy, Diade collection of Piquadro purses offers more than one outfit with the double face texture: on one side soft leather with geometric leather patches, to the other a colorful fabric pattern.
Ipazia collection is dedicated to dynamic women, who want to give a touch of color to everyday working style with a comfortable but glam Piquadro handbag.
Piquadro offers to women also a wide range of professional handbags and work briefcases, full of practical and functional solutions for the carry of everyday items without leaving out glamour and style, requested to every women even challenging little urban adventures.
For this spring-summer 2015 season, the color is protagonist also for Piquadro bags for men: an explicative example is Coleos backpack collections, where the "tech inside" is merged with original colored matches.
What are you waiting for? Give a touch of color to your wardrobe with Piquadro purses collection of spring-summer 2015 season.