Italy is the land of excellence, the beautiful country is admired all over the world not just for the delicious food, but also for soccer and fashion.
Sometimes this two features converge, as in the case of the successful meeting between Totò Schillaci and Elitaly, the brand of leather goods, handbags and briefcases that proudly expresses its origins exclusively made in Italy.
Totò Schillaci (born Salvatore) in an Italian soccer player famous for his exploits during 1990 World Cup in Italy, that earned him the nickname "Toto-Goal"
Like any tale, Schillaci's dream wasn't without troubles: called in the national team as reserve of Andrea Carnevale, Schillaci was aware of having a less important role. During the first match, after the middle of the second time, where the score was still 0-0, the coach Vicini sent him to the field: after just four minutes, Schillaci made the decisive goal, allowing the Italian team to win the game. Totò won immediately the hearts of fans, becoming the holder of the attack with Roberto Baggio, scoring in all games played against Czechoslovakia, Uruguay and Ireland. Schillaci became a real national symbol to the point that Roberto Baggio made him pull the decisive penalty kick against England.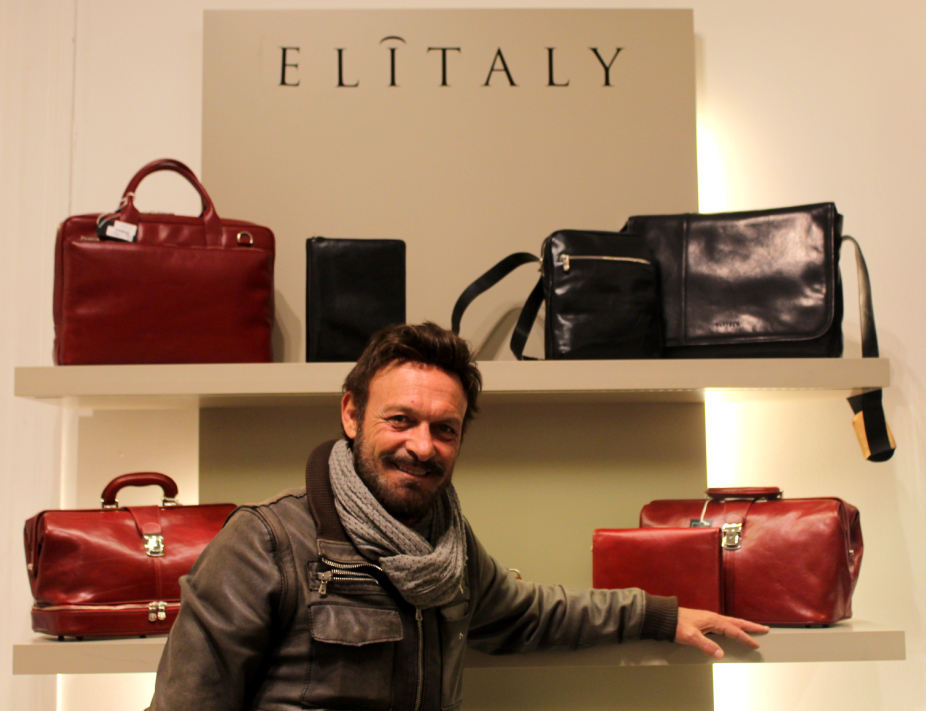 At the end of the World Cup, the Italian player became top scorer with six goals, he was elected best soccer player of the tournament: in the same year he was second in the Fifa Ballon d'Or ranking and won the Adidas Ballon d'Or and the Adidas Golden Shoe.
Today Toto Schillaci, born and raised in the popular quarter St. John the Apostle, returns to his Palermo where since 2000 manages the Louis Ribolla sport center for young players.
The photo shows the player next to the new Elitaly bags collection, characterized by fine national leather, crafted according to the made in Italy tradition. Elitaly combines the expert processing of materials with a contemporary and functional design, perfect to offer bags, handbags and small leather goods glamorous, sophisticated and comfortable.
The wide range of Elitaly products is divided into three collections, all featured with quality and design: Artic, for leather lovers, offers small leather goods, briefcases and professional bags characterized by a classic but contemporary taste at the same time, Saffiano collection, where lines and forms come together in the most glamorous handbags presenting the texture of the moment, and Dollaro line, featured with soft leather and raw refining, creating sober and elegant handbags and shopping bags .
What are you waiting for to buy an Elitaly bag? Genuine leather made in Italy!