Precious and original, Braccialini handbags of Temi collection are real works of art, made with the highest standards of quality and design. The "Temi" world means themes, subjects, emphasizing the brand's projects of producing purses with shapes derived from common (or not!) items.
Temi collection is the maximum representation of the fantasy world of Braccialini handbags, always characterized by intriguing and particular design, suitable for women who love to enrich their own style with a sophisticated touch, classy elements for a feminine ironic style.
Temi: spring summer 2015 collection
The theme of Braccialini handbags of spring/summer 2015 collection is the Mediterranean atmosphere of small islands. Following this concept, Braccialini offers three particular Temi handbags: il Cancello (the gate), il Carretto (the flower cart) and la Fontana (the fountain), all elements that bring to mind romantic imaginary sets as enchanted forests, flowers meadows and ancient villages to explore.
Braccialini Temi: Fontana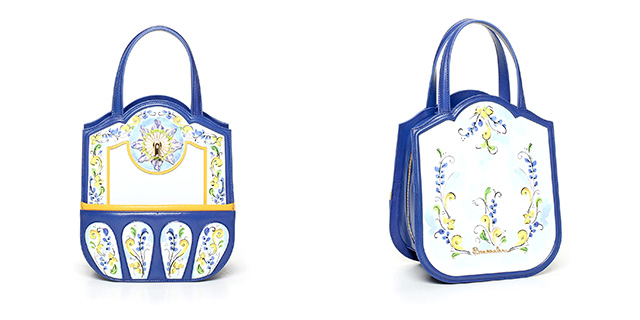 La Fontana (the fountain) is a handbag with two handles, made of goatskin and decorated in the typical colors of Vietri tiles as white, blue, light blue and pale yellows. Inlays hot pressed on the skin and the chrome detail of the fountain faucet give more elements of verisimilitude with a real fountain, recalling to mind the fountains of the south village squares, a source of refreshment on hot summer days.
Braccialini Temi: Carretto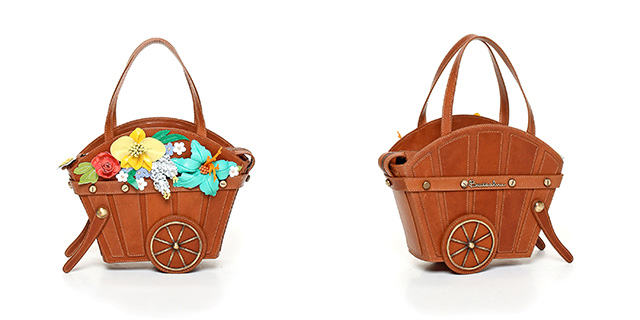 The Braccialini handbag barrel bag Carretto (the flower cart) evokes a small garden wagon full of flowers, refined in every detail, from the slats to the wheels, all made of  fine leather hand tanned with vegetal oils. The flowers details, produced in leather too, are a perfect example of the depth care that characterized every Braccialini handbag, in order to create high level accessories.
Braccialini Temi: Cancello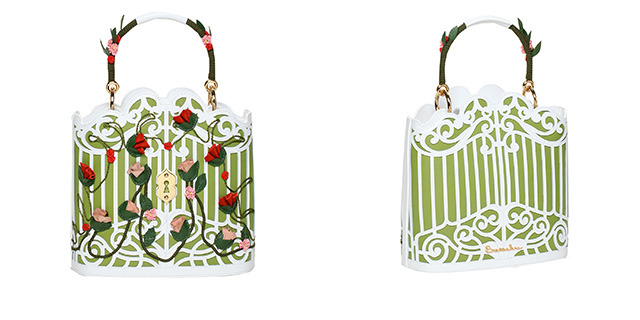 Third Braccialini handbag of Temi collection of spring/summer 2015 season is Il Cancello (the gate), perfect for lovers of fairy tale enchanted atmosphere. This bucket bag with one top handle is made of white carved calfskin, decorated with rosebuds and ivy branches in relief. The fine details and colors used give additional likelihood with a real villa of Eighteenth Century, surrounded by a blossoming garden.
Braccialini handbags: the most loved women's accessories
For this season, indeed, Braccialini handbags of Temi collection are confirmed among the most expected models by fashion lovers, curious to know what will be created by the Tuscan brand well known for its new ideas full of style and irony.
Over the years, in fact, Braccialini has surprised its fans with original Temi handbag models, taking everyday objects, or recurred items in our imagination, to be transformed into handbags or purses, the most loved women's accessories.
To Braccialini handbags designers not escape any cue, transposing on leather every season's trend: so, a barrel bag could be turn into a chameleon, a porcupine or even in an enchanted castle, or a bucket bag could be easily transformed as a lantern, a telephone or a mushroom.
The themes of Temi models are also transposed in more casual handbags or shoulder bags, interpreting in a younger way the fine design and the high level craftsmanship.  The attention to detail that characterizes Braccialini handbags, in fact, is not limited to Temi collections: from shopper to clutches, through barrel bags, buckets or shoulder bags, Braccialini instills in each model its ironic but elegant essence, creating accessories that will not pass unnoticed.