Among the biggest secrets that every woman hides, the content of her purse is surely one of those. Whether it's a clutch, a shopper or a briefcase, women always manage to keep in this indispensable accessory their whole world.
According to some semi-series theories, the content of women's bags can reveal female emotions and passions, in addition to the style, of course.
It is generally believed that disordered bags are symbol of chaos and confusion, but looking at it from another point of view, the apparent incoherence could be a symbol of creativity, dynamism and adventurous life.
Women could be considered real modern Mary Poppins, referring to the famous fairy-tale character recognizable for the handbags that she always carries, full of syrups, books, make-up and…even a coat hanger!
Whithiut going to these extremes, of course, there are at least five things you can not miss in a woman's purse:
perfume: whether it's a free sample or the whole bottle, the chance of an occasionally squeeze is too much desirable;
glasses: sunglasses or reading glasses are essential for work and leisure, so it is very useful keep them inside the bag;
medicine: avoiding to ruin everyday life with headaches or allergies, it's always best to have some soft medication;
make-up: lipstick, blush and mascara are the faithful companions of every woman;
smartphone and battery charger: smartphone has become an indispensable tool that holds a place of honor (and easily accessible) in our bag, where resides also the charger, to be always prepared
Handbags are the faithful companions of everyone daily life, ready to keep all we need at any time: in addition to this fundamental function, handbags are without any doubt one of the most important fashion accessories, being able to be reinvented in many original and elegant models.
About this, it is just not possible to don't mention Braccialini, the brand that has made of femininity and originality the strengths of its women's handbags, designed to meet any style giving that particular extra detail.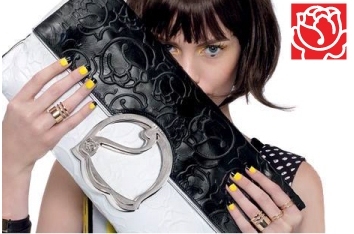 Braccialini spring/summer 2015 collection offer a wide range of Mary Poppins models, perfect for carrying all that every woman wants to take with her every day. Shoppers, shoulder bags and purses of the tuscan brand offer to bags lovers not just capacity but, most of all, design, color and quality, essential element for each Braccialini collection.
Perfect for work days or just for relax, Braccialini handbags of Tua collection are the suitable accessory for the contemporary woman that face the bustle of everyday life with style and irony: Cartoline handbags, for example, are the highest expression of this concept by offering models with simple lines but characterized by special patterns in reliefs, different for every season.
From Mary Poppins bags to clutch or pochettes, Braccialini collections are always ready to impress with fashion…and who knows what will reveal for the next season just around the corner?