In the last few days Matteo Marsaglia has been photographed with its Piquadro hand luggage, ready to leave for Zermatt, the popular ski area. Piquadro is already partner of Italian National Alpine Ski team, supporting this sport become an Italian proud all over the world.
Matteo is a World Cup Alpine Ski racer that since as a child has cultivated his passion for skiing, gaining even then great results. In 2012 Matteo has conquered the podium of the World Cup in Colorado and the following year won two gold medals during the Italian Championship.
Already in 2014 Matteo was testimonial of Piquadro: in advertising campaigns he worn a backpack of Coleos collection, a model just named "The best bag" of Design Award by the international magazine Wallpaper.
The relation between Marsaglia and Piquadro Coleos, then, is long standing due the quality and the design of these products, became soon the official luggage of the Alpine Ski team. Coleos collection is characterized by the original alternation between matte coated fabric and leather details, elements that give to the models functionality and resistance, as well as the unique and recognizable design.
Piquadro products are perfect for any kind of professionals, even athletes, because of the high level of quality and organization offered by the brand. Piquadro luggage, such as that used by Matteo during its travels, are equipped with all the necessary to guarantee comfortable travel experiences.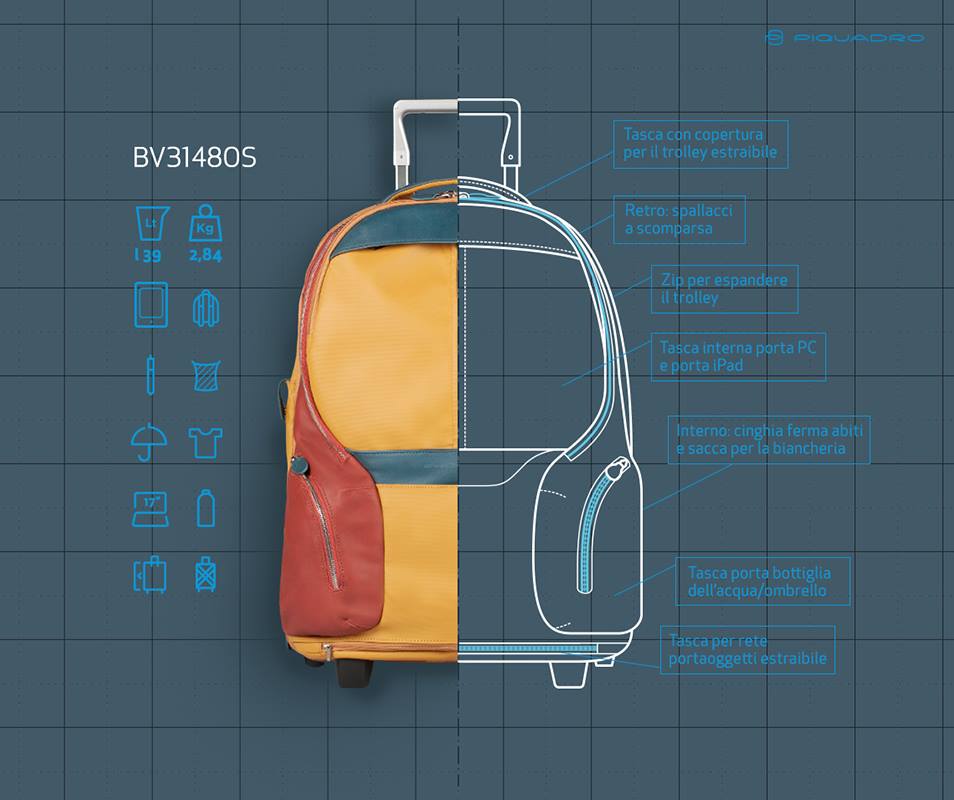 Piquadro carry-on suitcases are equipped with water resistant linings, internal organization with compartments, belts and pockets, perfect to keep the content of the baggage in order. Technological items are kept in the same order and security with dedicated padded holders for laptops, iPads and mp3 players.
Designed to be light, resistant and comfortable at the same time, Piquadro luggage offers wheels able to rotate in absolute silence, adjustable top handle and side handles, some products have also the backpack portability, to bring our baggage in an even more comfortable way.
The Italian brand confirms its "tech inside" style even in the hand luggage field, with the use of innovative material and technologies; the design is prestigious too, characterized by sober but recognizable shapes enriched by contrast colors or different textures, creating carry-on luggage perfect for business trips or for vacation.
Talking of business trips, Piquadro also offers a wide range of pilot carry-on cases, briefcase luggage suitable for short business travels: these products are equipped with garment compartment, laptop padded holder, folder pocket and all the necessary for businessmen.
Luggage collections of the brand are destined to become one of the top of the brand, combining functionality and design, the high-level equipment allow to its baggage to be used even in particular professional context, as the athletic one. But without going too far, these products are perfect for any type of trip, for a "tech inside" journey.