The particular temper of Braccialini Carinabag has conquered international celebrities. Vanesa Romero, Spanish actress, TV presenter and model has been photographed with the ivory model of the famous little car.
Become an icon of style in Spain and all over Europe, Vanesa Romero has started her career as athlete and then participating in beauty contest, becoming soon an actress for TV series, advertising and movies. Become a celebrity, Vanesa today has its own dedicated blog in one of the most important web lifestyle magazines in Spain, exploring her passion for fashion.
Just in her blog, Vanesa posted a photo where the CarinaBag is matched with a sophisticated outfit which clearly refers to another of the summer must-have, polka dots. The soft suit, enriched by elegant heels in pale shades, highlights the character of the handbag, chic but smart.
Vanesa Romero had already photoshooted with a Braccialini purse of fall/winter 2014-2015 collection, so this second appearance is a declaration of love for the brand, whose versatility fits perfectly with the style of celebrity.
A woman so passionate about fashion could not be bowled over by the unconventional charm of Carinabag, the Braccialini handbag able to enrich any look with its ironic and sophisticated style. Made of eco-compatible PVC, the manufacturing process of Carinabag recalls in miniature the producing chain of real cars, including the assembly of chromed rims.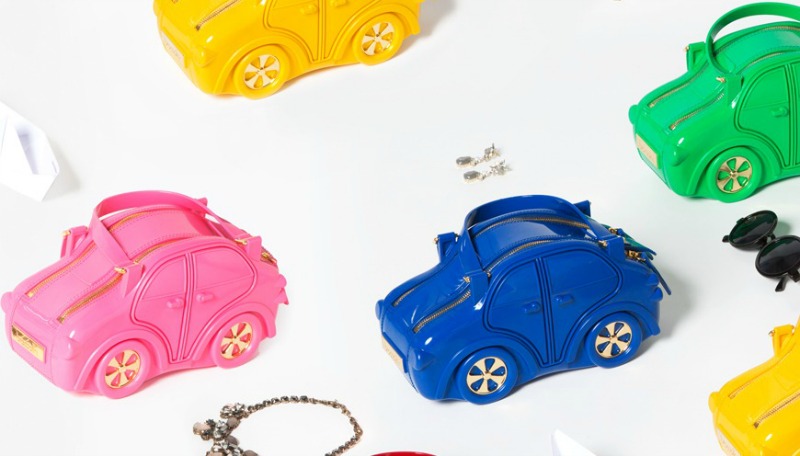 Equipped with double handles and a comfortable adjustable shoulder strap, CarinaBag is perfect to be worn with every outfit in any occasion: the wide assortment of colors range from classic ones as black, ivory or red, to summer shades as mint green, pink or yellow.
In little time Carinabag became one of the favorite accessory for fashion lovers and other European celebrities, who have shown the little car handbag in many occasions. The key of the Carinabag's success is, without any doubt, its originality, that tempt every woman to play with her own style and femininity in a new ironic and pure way.
Braccialini is well known for its ability in creating handbags destined to be a must-have: as well as Carinabag, that is the reinterpretation of the equally famous Taxi bag of past seasons, other models have become really popular, like handbags of Cartoline collection.
Braccialini handbags embody a plurality of facets, as many as those of each woman: elegant and sophisticated, but also original and funny at the same time, the purses of the brand don't leave out quality and design.  The brand, in fact, follows the Tuscan legacy of craftsmanship combining it with a fresh and unusual touch, creating a perfect match among fashion, elegance and femininity.
Braccialini promises a lot of surprises also for the forthcoming fall/winter 2015-2016 season, with the usual taste but with new amazing ideas and design.