Among the most loved women's handbags there is undoubtedly the shoulder bag, versatile and comfortable, suitable for any time of the day. From little messengers to clutches, shoulder bags can be declined in different shapes, colors and materials, becoming a real fashion passepartout.
The secret of shoulder bags success is the chance to bring a small bag while leaving free the hands: the small shape, indeed, could be interpreted in different and imaginative shapes, the shoulder strap is an accessory too, as the case of jewel-chains straps.
The Bridge has made this kind of purses one of his strengths, designing them in sophisticated shapes from season to season: for the spring/summer 2015 collections, the Tuscan brand have offered a wide range of shoulder bags characterized by soft leather and bright colors as yellow, red or blue, near the timeless black and brown; for the incoming winter, The Bridge has shown the Bruges collection, entirely dedicated to crossbody bags.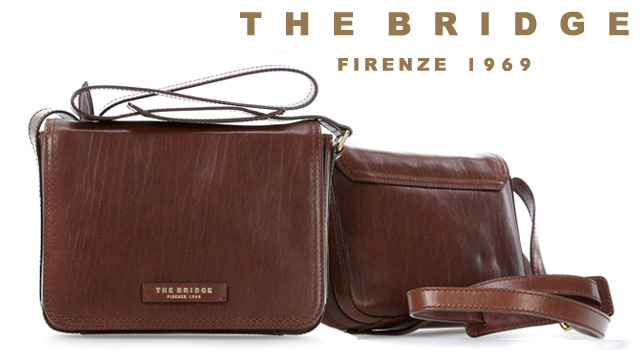 With this new collection, the brand reinterprets the concept of the shoulder bag with purses perfect not just for young ladies. Bruges purses are recognizable for the sober squared design, the flap over that cover all the front of the bag, the logo hot printed in a sewed leather detail. The shape of the handbag is made more structured by the material used, the beloved The Bridge hide leather, offered in leather brown, black and burgundy shades.
The luxurious texture of Bruges models makes every bag sophisticated but urban at the same time, acquiring a country-chic taste for the leather brown and a strong and rock touch for the black and burgundy ones. Purses of this collection are available in three different sizes, satisfying every woman's need: from those who love bring just wallet and keys to girls with a book or a tablet always in the bag, shoulder bags of The Bridge offers every kind of solution.
Perfecto for everyday life, these handbags can be worn with every outfit, adapting to perfection and giving a special touch at the same time. From casual to school style for the younger, shoulder bags are a timeless accessory that never goes out of our wardrobes.
Fashion magazines, fashion shows and advertisings reproduce the style of these purses from season to season, adapting it to current trends. The Bridge anticipations are in step with new tendencies, keeping intact at the same time its usual high quality of design and materials. Bruges bags are made of hide leather produced according to the Tuscan tradition, with hand-buffering and amber roller finishing, in order to give the recognizable luxury texture to every model.
The curiosity about the new fall/autumn 2015-2016 collections is high, the anticipations promises a glamorous and elegant range of The Bridge models, recognizable for the characteristic taste of the brand.