Braccialini brands surprises us every years with its originality, and for the winter season this trend is confirmed, holding tight the philosophy of the Tuscan company, always faithful to femininity and elegance without leaving out originality.
Among the most awaited collection of each season certainly stand the Temi line ("Temi" means themes, subjects), models of purses comparable to real works of art, true pieces of design characterized by the high quality of the materials, the expert  craftsmanship and a lot of imagination.
One of the Temi handbags of this season is the public tram San Babila: perfectly in line with the concept of this last collection inspired by urban glamour, this handbag with double handle and zipper closure play with warmth and vintage colors, enriched with metal details and the sign "San Babila" as the indication of the direction.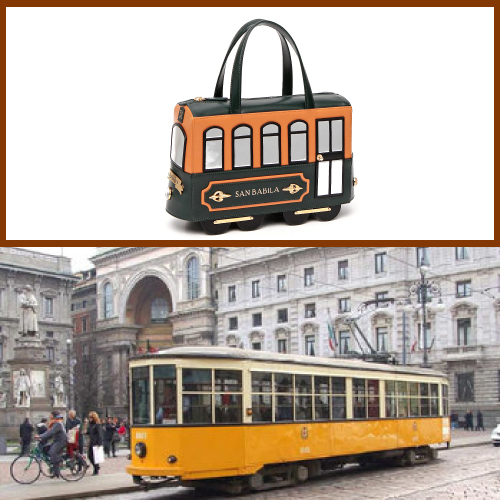 The retrò style of this purse recalls the soft and intriguing atmospheres of 40's and 50's, a period particularly loved by the brand, reinterpreted and declined in different models and silhouettes. The maximum example is the famous Braccialini Taxi bag, whose success was such that this year a new edition has been offered, the beloved CarinaBag.
As already mentioned, one of the hallmarks of the Tram is the word "San Babila" on the side, and the choice of this spot is not so random: San Babila is one of the most important hubs of Milan, a city itself symbol of urban and dynamism par excellence. The San Babila Tram is not the first model that Braccialini has been dedicated to Milan this year, the city became the center of national and international attention hosting the Expo2015.
The Expo Milan 2015, in fact, has considerably influenced all aspects of Italian society in recent months, inspiring food, culture and, of course, fashion sector. In addition to the activities offered by the organization itself, made in Italy leading companies have paid tribute to the history of the Universal Exhibition, an event of great significance that traces its origins to the dawn of modern age.
In addition to representing one of the most important fashion capitals, Milan reminds also the typical character of businessmen and businesswomen. Braccialini handbags, with their ability to combine glamour and comfort, are perfect for real working women always on the go, who enjoy an elegant but original style. From shoulder bags to shoppers, passing through a wide range of handbags and satchels, the brand meets every woman's need complying with the many facets of his being and, above all, her own style. In this context, the fall/winter 2015-2016 collection of Braccialini handbags is particularly suitable, embodying the urban mood of contemporary women in the most beloved accessory.
The desire to express creativity and personality through an accessory can only be interpreted in the best right by the Braccialini Temi collection, whose fine quality workmanship and prestigious details cannot be unnoticed, allowing each woman to wear a unique object in its kind, able to play with humor and glamour following fashion trends