Among the most appreciated Italian brands who attended the Vogue Fashion's Night out could not miss The Bridge, which offered to lovers of hide leather a particular outstanding show.
Our journey through the events of VFNO in Milan stops in Brera, the beating heart of the historic center of the city and important part of the fashion district, where The Bridge's store hosted a craftsman that has performed a live show of leather treatment, which ended with the customizing of the guests' leather handbags.
The Tuscan brand has a close relation with Milan, a bound that has been further consolidated with the events of Expo 2015, at which The Bridge has taken part in the celebration of the made in Italy in the world on several occasions.
The event organized in occasion of Vogue Fashion's Night Out directly recalls the spearhead of the brand, the hide leather indeed, whose sophisticated and elegant style with the British echo can only be guarantee of class, perfectly matched to the fashion trends of each season.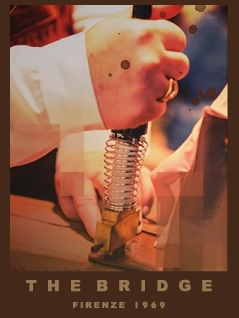 The evening was particularly successful for the opportunity to attend a unique show, which went far beyond the customization of the handbags: what happened during the event was only a small summary of what the mark is became famous throughout the world, a representation of the fine craftsmanship Tuscan tradition that characterized each model, made with experience and expertise, always without compromising the design.
In this occasion, lovers of the brand could also look closely at the new collection of autumn/winter, characterized by the use not only of hide leather or wrinkled leather, but also for other materials and colors, used wisely with a glamorous game of contrasts and materials, shades and forms: the wide assortment of The Bridge collections range from handbags to briefcases, passing by small leather goods such as wallets, key rings and desk accessories. Each model is recognizable by the usual high quality that distinguishes the brand and a style and fashionable taste at the same time: VFNO is now over, but The Bridge never stops to amaze us.