One of the most critical aspects when you are about to leave for a vacation is to pack. If the journey is by plane there is also the problem of having to comply with certain features such as the weight of the baggage, worth more than a hefty fine and possible payment of each pound in excess.
The same applies to the size, which usually does not exceed 158 cm, adding height, width and depth, as for larger sizes, additional costs are required. In this regard it is expressed Kenny Jacobs, Chief Marketing Officer of Ryanair has already announced a number of changes on the hold baggage and therefore also to those of other dimensions.
So, if you are packing your luggage for your dream vacation or the adventure trip you dreamt for a lifetime, why do you have to give up a pair of elegant shoes or that passpartout outfit that suits you all the occasions?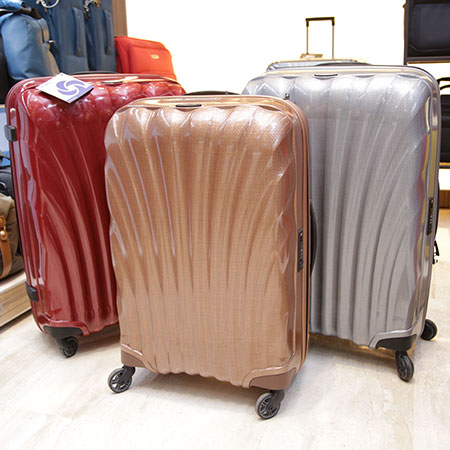 Today, we've decided to present you five solutions to help you choose your ideal baggage since, very often, the problem is not just packing your suitcase but also which suitcase to choose. Soft, rigid and semi-rigid, more or less large, made in the most diverse materials of different colors or modern and young fantasies.
Let's start from Samsonite and its iconic suitcase called Cosmolite, made in Curv a perfect combination of strength and lightness thanks to a special manifacturing process of polypropylene.
This is a special process that starts by melting the virgin polypropylene balls that are cast into thin sheets, cut into thin strips of about 1 millimeter and then streaked to make them thin. But the most important part of the production process, one that gives great resistance to the finished product, is the way they are woven, just like cotton. This line is particularly appealing for the design and range of colors offered: the original shell shape, which uniquely identifies the baggage of the line, won the Red Dot Design Award for its sophisticated and functional performance design of luggage.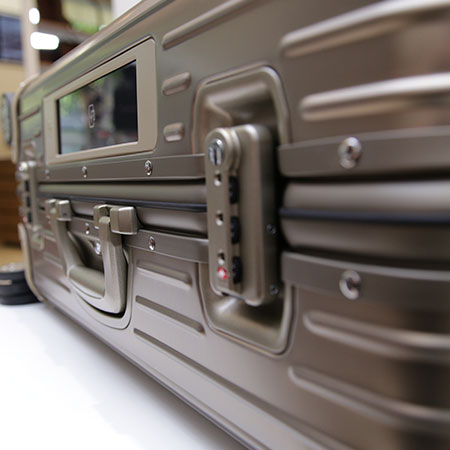 Roncato's new New York line is a new concept of hybrid technology applied to the suitcase that combines the features of a rigid suitcase like resistance to those of a suitcase made in fabric such as lightness and the chances of having so many pockets.
In fact, the top and bottom are made of textured polycarbonate finely combined to the main body of the suitcase which is made of fabric. Finally, the details are: the glittery metal effect logo, the integrated TSA padlock, the brushed nickel-covered wheels, the handles and the  in color coupled with the body they help create a new and modern style of luggage.
Rimowa, always a symbol of luxury and innovation, is an icon of elegance combined with the new Electronic Tag system, a technology that redefines the real idea of travel. Using the Electronic Tag travelers will be able to check their luggage at home using their smartphone and leave them at the airport within few seconds without any stress. Rimowa's Electronic Tag replaces the usual paper label with a digital data module to which airline luggage data is transmitted.
Even Piquadro, leading company in the business industry, today is expanding its horizons to the world of luggage with a new project.
Finally, if you are the type of traveler looking for stress-free and unconventional luggage, we only have to recommend Crash Baggage, a suitcase with which you can really travel safely without paying too much attention to your luggage, being sure to have a unique look and original and lightweight and super-durable luggage. Super-resistant because it is made of water-repellent polycarbonate, a lightweight, impact-resistant material and all weather conditions.
Have you packed everything? Then 3,2,1 … leave!