BUY ONLINE LE PANDORINE BAGS AND ACCESSORIES
Like already foreshadowed recently, together with the spring/summer 2018 collections from Le Pandorine returns the Smiley collection, dedicated to the (in every sense) ironic yellow face, that appears in the social networks.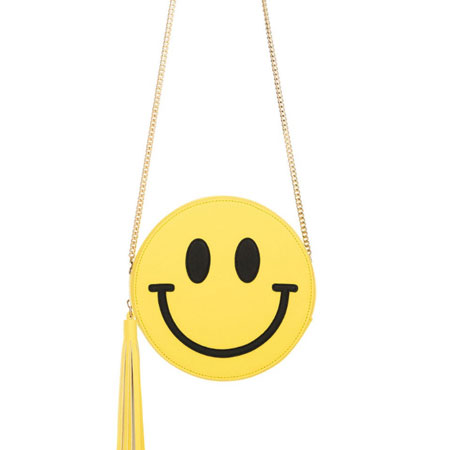 While during the last seasons the smileys appeared in form of patches on bags and backpacks, for the summer the brand risks even more by offering this shoulder bags of round forms, the revoke the smileys, declined in the different face expressions and, obviously, with the ironic phrases, that made the brand famous.
While the models of women's bags from the Smiley collection present this faces, on the other side indeed every object offers a different phrase: feminine, ironic and funny. The words printed on the bags make us laugh thanks to their ability to make us remember those moments or thoughts from the everyday life. This is the brand's secret, that with the Smiley collection results more than ever able to combine design, creativity and femininity, without seeming ever predictable or banal. Thanks to this characteristic the brand is loved by women of every age, and they love to wear this small accessories full of irony during every moment of the day.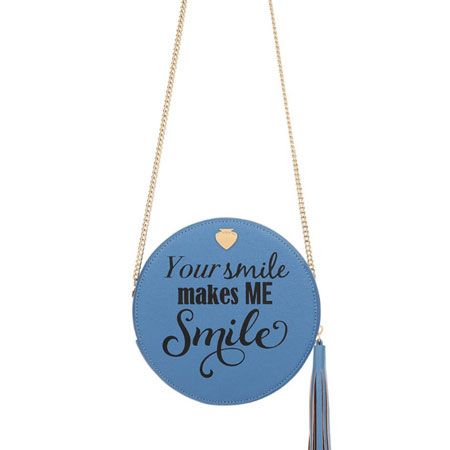 We will have a closer look on this collection: the bags from Le Pandorine of the Smiley collection are equipped with a practical strap made of a gold-colored chain and a zip closure with a snag in form of a tassel with fringes, that is one of the must-have accessories for the fashion bags in this season. Despite the small dimensions the perfectly rounded form makes the bags particularly spacious and suitable for the free time and not only.
To complete the collection with a smile, there are the key chains, that reproduce in small dimensions the same emoticons, phrases and colors of the shoulder bags, for a complete look full of irony and happiness, perfect for the summer.