The Spring/Summer 2019 season from Braccialini is distinguished by the explicit reference to the sea topic. Like for every collection Braccialini chooses a recurrent theme which accompanies the collections with bags and wallets, while reinterpreting the chosen topic in a creative and glamorous way, maintaining the Tuscan brand's typical style.
Braccialini describes the sea with mermaids and cruise ship destination, elements directly printed on the item or with typical symbols combined to refined color variations and elegant or sophisticated inserts.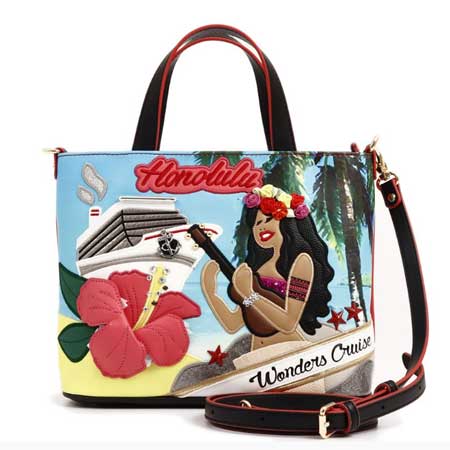 Best strongest expression of the summer at the seaside is the brand's Cartoline collection, one of the most loved collections thanks to the extremely recognizable and creative style: this season's title for the bags from Braccialini Cartoline is Wonder Cruise, which creates for every item prints with the greatest attractions of Honolulu, Sydney, San Francisco and many more typical tourist spots and cruise ship destinations. The prints of Cartoline as usual are enriched by inserts made of strass, pearls, fabric and stick out elements, glitter and varnish, to create a three dimensional decoration and a pleasant mixture of materials which is not only beautiful, but also nice to touch. Perfectly fitting to the Cartoline bags as always there are also the wallets, and of course also the popular clutch with shoulder strap to accompany us during warm summer evenings with its minimalist design.
The anchor instead is the predominant details of the Tua-Summer collection and can be found on the front of this collections woman's bags, characterized by a pleasant combination of perforated textures with gold-colored background: the result is a collection with perfect summer bags with the right dose of creativity combined to one of the most important must haves during this summer, the metallic colors.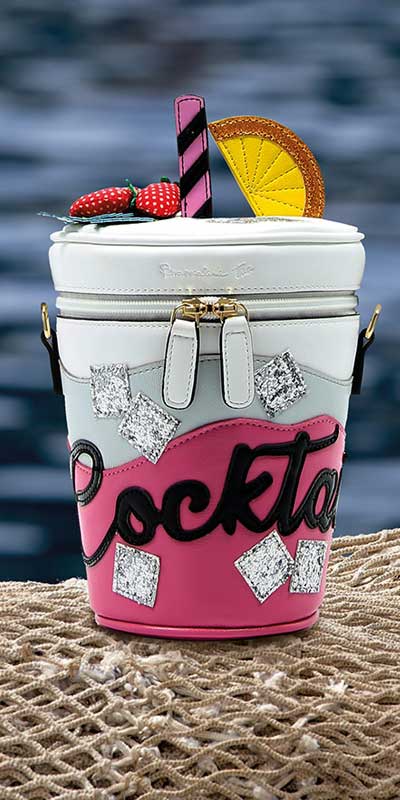 As every season Braccialini surprises us with always new collections which definitely stand out: for the SS19 it is all about the Shape collection, which consists in women's bags of particular shapes, as the name already foreshadows. The crossbody-bags from Braccialini of the Tua-Shape collection thus show up as a cocktail with fruits and straw or as reflex camera with gold-colored glitter inserts to enrich every outfit with happiness and creativity, perfect for everyone who loves to stand out with an ironic look.
Beside of the collections with clearly happy and creative style, Braccialini also this summer offers an ample choice of women's bags with refined and elegant design, items entirely made of leather with delicate inserts made of strass and chromed metal. While during last winter the Amelie collection with leather bags offered geometrical inserts in different colors, this summer the variation is all about large vertical stripes which perfectly fit to the flower pattern printed with heat on every item's surface. To lend an even more particular style to Amelie, there are braided leather details and chain element made of chromed gold-colored metal used for even more creative and chic handles and straps.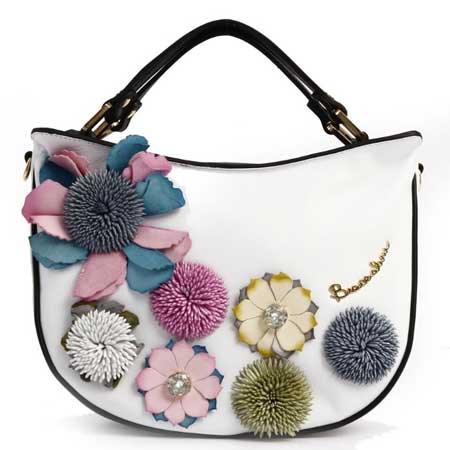 Another great comeback celebrates the Penelope collection, recognizable by the flower inserts made of leather and the usage of soft and feminine colors: this summer the flower theme can be found also in the Jasmine collection which offers the same precious inserts but in combination with a soft design and surface. Penelope and Jasmine are destined to become two of this season's must haves, thanks to their simple design which becomes elegant and sophisticated thanks to the multiple details.
Not as stick out elements but printed on the leather with saffiano effect instead is the flower pattern with Bracciliani's rose emblem, which is definitely the real protagonist of the Kate collection, distinguished by extremely simple and structured shapes in combination with multicolored prints and feminine color variations: the collection is available in two different multicolored versions in rose and white or black, to fit to every look and every women's taste.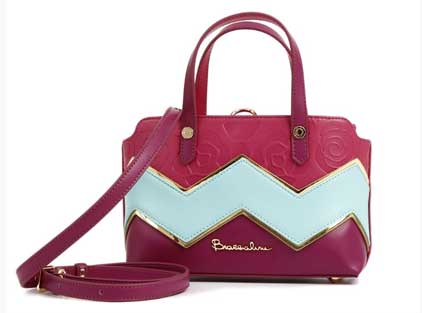 The collection called Naomi is based on the same concept but with different style, it offers prestigious details which include all characteristics of the Braccialini bags in SS19: bright and vivid colors, precious materials, flower patterns on the leather and gold-colored chromed details create a collection of shopping bags and handbags with extremely simple design but decorated with all these elements, which contribute to create a harmonic and glamorous design.
With Braccialini the summer is manifested in all its aspects: sea and mermaids, but also leafs and flowers, details which directly underline the colors, happiness and glamour of the most beautiful season.