Smart, up-to-date and versatile: this are the characteristics of the new brand Bric's Be Young (shortened B|Y), dedicated to all Millennials, a fresh generation always in movement.
Be Young was introduced in February at Mipel in Milan and is the last news from Bric's, a historical brand in the sector of luggage and travel accessories of high quality. For this new project the brand created a partnership with the industrial designer David Dolcini to offer a product of a marginally lower price in combination to a particular and convincing style, which is apparently based on the essentials with high standard technical details.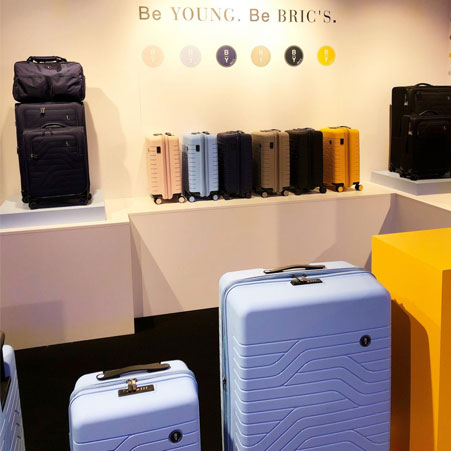 Be Young from Bric's actually consists in two collections, Ulisse and Itaca, characterized by a rectangular design which is emphasized by geometrical details on in- and outside: Ulisse is a collection with hardside luggage made of light and resistant polypropylene, while Itaca offers softside suitcases and travel accessories made of nylon and water-proof polyester. In both cases the suitcases are equipped with four spinner wheels, which perfectly fit to the dynamic and strong mood of the Be Young brand.
Another fundamental characteristic of Be Young is the existence of a plug for a battery charge inside the carry-on spinner, perfect to easily charge all electronic devices also while traveling: this detail was already included in products of the business collections Bric's Monza and Torino, but for carry-on spinners it represents a completely new idea that we will find in a lot of future suitcase collections.
Below we will have a more detailed look at the distinctive characteristics of Be Young. There is a strong resistance not only when it is about the materials on the outside, but also in the zip closures, the spinner wheels and the draft-bar of every suitcase, in combination with a sophisticated organization of the spaces on the inside: the inside is lined with fabric presenting the same graphic as on the outside and equipped with two ample compartments with zip closure. Furthermore there are clothes belts and a compartment for shoes or laundry.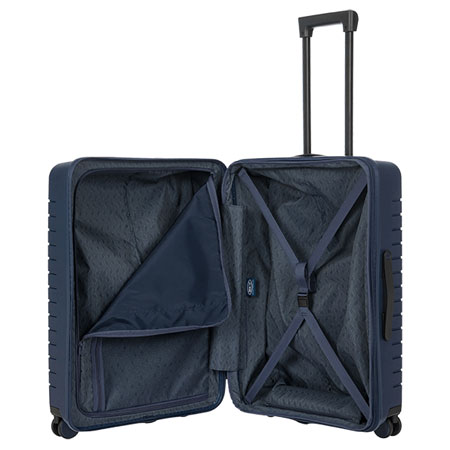 The color is another important aspect for Be Young which not should be underestimated: this detail completely communicates at first sight the project's idea. In combination to the design with rills (in case of hardside suitcase) or quilting (softside luggage) with geometrical shapes, the chosen color palette contributes to lend a fresh touch to all Ulisse e Itaca suitcases. Beside of navy blue and black, which can't be missing in any luggage collection, there are also avion and the really particular color mango, which is an intense yellow perfect for summer and winter that we already have seen on a lot of catwalks and now also on suitcases.
To complete the collection there are the travel accessories, which contribute to integrate the offered style with functionality and comfort: travel bags, beauty case and toilet kits pick up the same color shades and add some special details with high comfort as an integrated hook (for example inside the toilet kit) or also a fillet for luggage fitting on the travel bag's backs, which is particularly useful when one has to transport a lot of luggage at the same time.

With Be Young Bric's confirms even more the tendency to combine different sectors and style, while maintaining the ancient tradition and experience in this sector: From suitcases and business accessories to women's bags and small leather goods, the assortment from Bric's is distinguished by a strong concentration on new items, materials and colors. The final result is an assortment of products with refined and elegant taste but also fresh and high tech at the same time, ideal for every kind of usage and claim, with one unique aim: to offer high quality accessories.