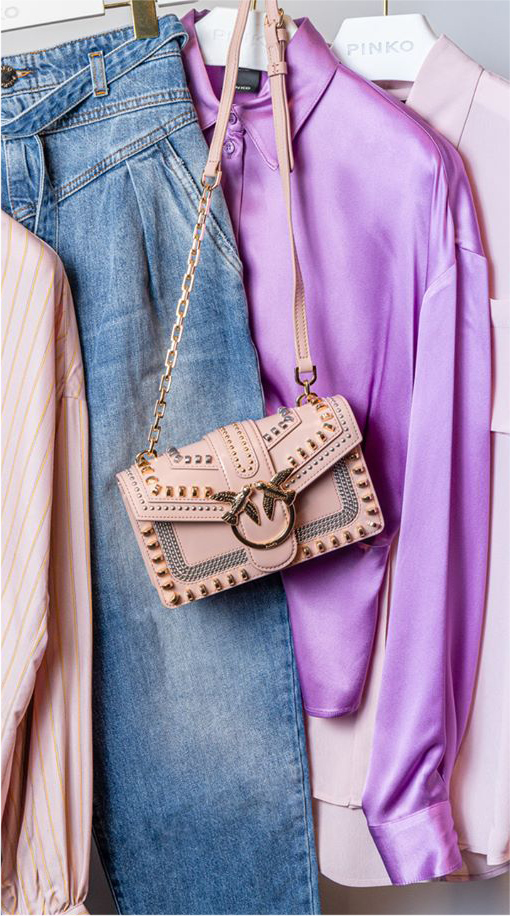 Feminine, chic and fun: these are the characteristics of Pinko Love Bags, the iconic bags of the brand made in Italy that are characterized by the versatility in practical and reduced dimensions, perfect for every moment of the day.
The Pinko crossbody bags are characterized by the recognizable buckle with swallows, which is available in chromed or glazed variants according to the kind of model: although the Love Bags are all crossbody bags, in fact, the brand loves to play with different shapes, sizes and textures creating a complete collection, perfect to meet the taste of every woman, ranging from more chic and romantic moods to a more rock one, thank to the use of  studs.
The Pinko company was born during the 80s from the intuition of Pietro Negra and his wife Cristina Rubini, who wanted to respond to an increasingly pressing but still little covered need in the world of fashion to better reprsent the independent and gritty woman, strong but at the same time aware of her femininity. The brand's skills to express, coherently and respectfully, the freest aspect of every woman, has led Pinko to become a reference point in national and international fashion. In addition to being a mainstay of fashion, Pinko has also distinguished itself in terms of sustainability, marking its identity with the care for the environment and human resources.

The Pinko Love Bags are the brand's iconic accessory, perfectly embodying its style. The Pinko bags are handmade and include different types of models:
the Simply are characterized by their smooth, silky touch and solid color, which makes the gold-colored chromed buckle stand out
the Twist have an additional tone-on-tone leather edging, which is also present on the buckle creating a single-color effect enlivened by the details in rilief
the Studs embody a rock soul, thank to the gold-colored studs and stones that stand out strongly on a timeless black or more romantic shades such as powder pink and white
the Puff are made of soft nappa leather or fabric with quilted effect that makes them soft and light
the Smart models offer a more particular vertical design, perfect for those who love an extra distinctive touch

The Pinko Love Bags are also available in the Mini variant, small jewels of glamor and style.
The color variants proposed by the brand for its Love Bags are large and creative, going from the already mentioned black to the white and pink, which are among the must-haves colors of the collection. The brand also dares with bright yellow, electric blue and camouflage-style or tie dye prints.
The Pinko Love Bag bags can be combined with the brand's belts, which recall the common thread of the shoulder straps thanks to the swallows on the buckle: the Pinko women's belts are made of leather and are available in different colors, perfect to complete every look.