As previously discussed, versatility and femininity are the main characteristics of the Pinko brand, which is perfect for the spirited and energetic woman. This trend takes shape both in accessories, such as the iconic Love Bag, but also in clothing, which embody for this summer the mood of the brand in its entirety.

For the Spring/Summer 2020 collection, in fact, Pinko interprets some must-haves of the hot season with its unique style.
The first of these moods is the most dreamy, fresh and romantic one, which is characterized by the use of bright colors such as yellow, pink and orange combined with an impalpable silk creponne fabric, with a texture in relief that matches perfectly the play of transparencies typical of pleats.
Pinko proposes wide and long dresses, which emphasize the female silhouette with strapless necklines, and maxi-shirts that combine the wide design with the sensual neckline of uncovered shoulders.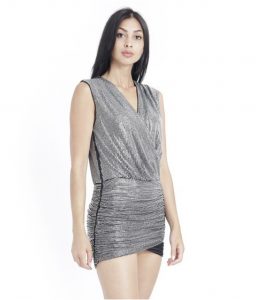 The exactly opposite style have the Pinko clothes full of rhinestones, which are characterized by the rock soul given by studs and stones on the entire surface of the garments. White and black are the used shades in this case, which are combined with dresses or tops with an extremely feminine essence: dresses with deep necklines, thin straps or empire-style cuts are covered with light by a layer of rhinestones that contributes to make each outfit spirited but elegant at the same time. Shorts and trousers are also covered with rhinestones, perfect to combine with bon-ton shirts or plain-colored tops

Pinko ranges from rock to ethnic, offering a collection of dresses, blouses and pants with Japanese print in black & white. This kind of print, characterized by curves and drawings, explicitly evokes an oriental style that matches the light cotton and the shiny twill used for the garments. If Pinko uses the vaporous cotton for blouses and dresses with a wide and floating design, the twill is used to embody a more chic mood for wide pants with pajama-style and long dresses with deep necklines.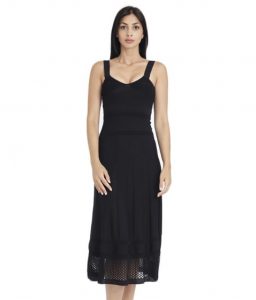 The Pinko dresses from the summer collection meet another style typical of the hot season, that is the jersey mini-dresses and cotton tops. Perfect to enhance feminine forms, the typical style of knitting is combined with quilted texture and details in relief or geometric necklines. The Pinko dresses of this collection are available either in black or white..
Rock, oriental, bon-ton and floral: the Pinko dresses from this season collection are dedicated to the thousand facets of the woman who loves to dare with her femininity during summer.