Sun, nice weather and vacation: these thoughts, especially this year, bring us joy and, obviously, they are elements that cannot be missing for the Spring/Summer 2020 fashion seasons. In addition to the everlasting trends typical of the summer such as the use of multicolor prints and pastel shades, this summer the trend is to take to the extreme the vacation mood hidden in each of us, offering joyful and carefree accessories, which evoke warm summer evenings in good company and with an iced drink .

Coordinated, as usual, by the artistic director Luca Lo Bosco, the photo shoot for the Scalia Group SS20 campaign has as location the Aeroviaggi Pollina Resort, a dream destination in typical Mediterranean style, reinterpreted in a modern and elegant key, perfect scenery with its gardens, the white buildings and the breathtaking view of a black volcanic beach from which the intense blue of the sea stands out. With the claim "Safe vacations", Aeroviaggi opened its summer season in the structures of Pollina, Sciacca and Augusta on May 29, with stay options able to balance the need for security with the desire for a vacation: this attitude fully meets the desire to restart again with the right amount of energy with a photographic campaign full of color and smiles.
Green, white and blue are the main colors of the photo shoot with sets that ranged from the poolside to the beach and the fresh arcades, with the aim of immersing the viewer in a dream scenario, a real vacation for eyes and mind.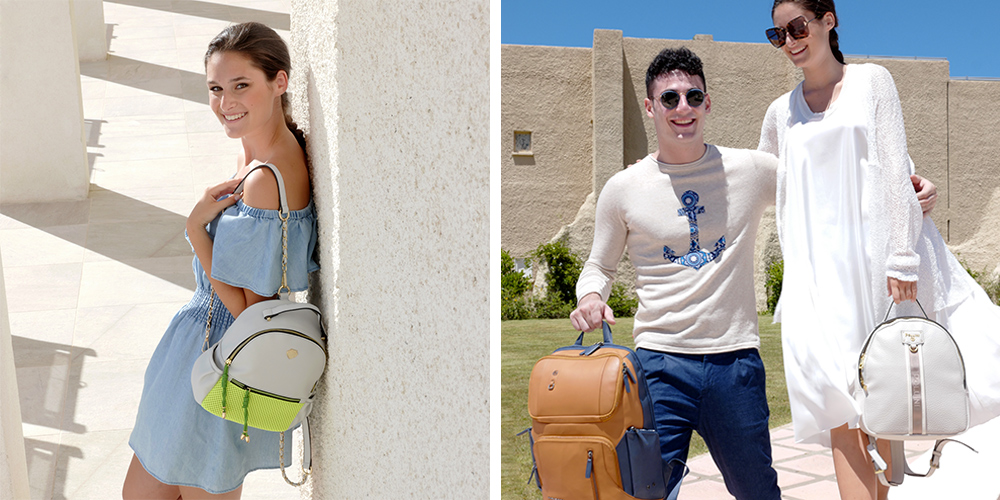 These context perfectly combine with the collections that we have proposed in our shots, offering the most summery and glamorous items that the brands have created for the hot season, without neglecting some cornerstones of our assortments such as typically business accessories and luggage. Coccinelle with its blue and shining white, The Bridge with its warm and refined tones, Piquadro with its strong business style and then the Pollini and Patrizia Pepe elegance are some of the elements enhanced during the shooting, which saw also as protagonists the chic Anna Virgili crossbody  bags, the irreverence of Le Pandorine bags and backpacks and the unique style of the Titan and Bric's suitcases, synonyms of refinement and functionality on the go.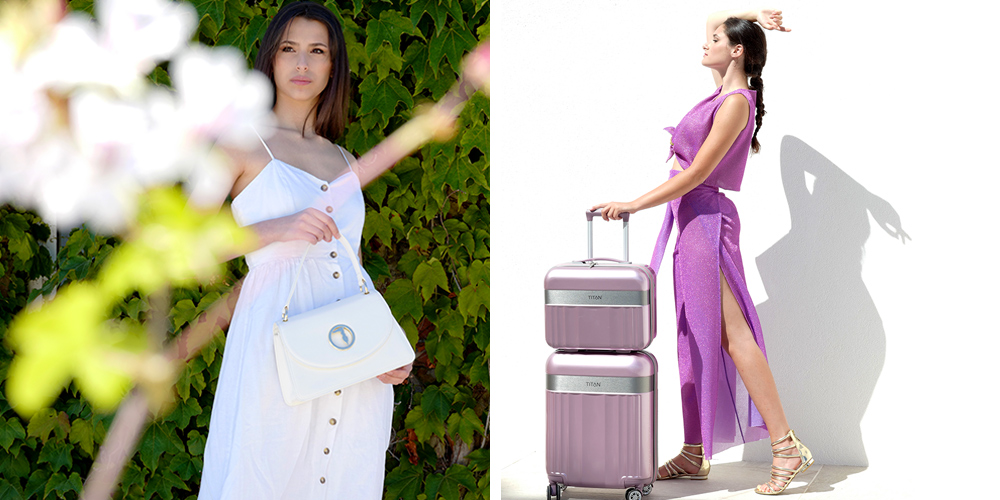 The models of the L.L.B Team that posed for us wore the clothes of 2P Uomo, Casa and Putìa, Loredana Natalè and Intimo D … Amare.