Also for 2020 Samsonite does not fail to amaze us with its new arrivals, presenting for this season a unique and completely innovative collection, which represents a real revolution in the luggage sector of the brand: Proxis.
But what makes the Proxis collection so special? Without a doubt, we can say that the main factors are two, the design and the material used, which make the products of the collection extremely light, resistant and resilient and having also the peculiarity of returning to their original shape after different kind of stresses and pressures.

Design
The first detail that catches the eye is the extremely contemporary character of the collection's design, whose grooves resemble the tail of a scorpion or the rib cage of the human body, already suggesting strength and stability. In addition to the aesthetic and evocative aspect, the particular design of the Samsonite luggage from the Proxis collection can be considered self-reinforcing, meaning that it allows the luggage itself to better resist shocks, which are thus absorbed by the shell itself. Another particular aspect that should not be underestimated when it comes to design is the innovative hidden expandability of the carry-on luggage, patented by Samsonite. This new system first of all gives new security to the luggage: to access the luggage inner part, in fact, two (overlapping) zippers must be opened and not one; it also allows for greater expandability of 6 liters.
Materiale
Second detail – actually the absolute protagonist of the Proxis revolution – is the material used to make the shells, the Roxkin, made by Samsonite in Europe and completely recyclable. Like the Curv, the Roxkin is also made of polypropylene, with a mesh print effect (and not a "fabric" like the Curv of Cosmolite) and extraordinarily thin despite its multilayer structure. It is no coincidence that "Roxkin" derives from rock and skin, given the material's characteristic of being strong as a rock but thin and light like skin.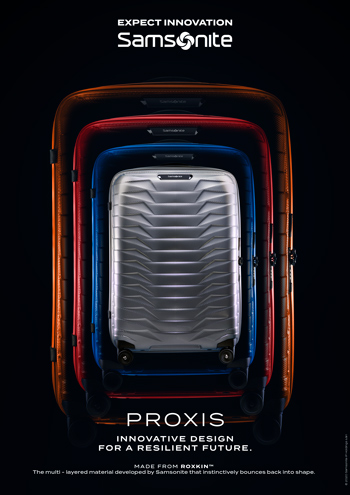 Proxis is therefore an extremely advanced luggage collection, of great impact not only for its technical characteristics (such as lightness, considering that the 75 cm luggage weighs only 2.9 kg) but also from an aesthetic point of view, with a sparkling shell with a wide range of color palette: from the classic black and gray to gold and petroleum. .
Going to the inner equipment, this is designed to improve the distribution the content of the luggage thanks to the two fabric dividers, the clothes straps and the linen compartments. The cabin variant also has a pocket for the power bank to be connected to the USB dock on the side of the luggage.
With its assortment of four suitcases, the Proxis collection is perfect for every kind of travel and traveler with all its characteristics, thus marking a profound turning point towards the luggage of the future.