Already among the leading companies in the luggage sector, the German brand Titan amazes travelers with innovative luggage collections, made with new generation materials and equipped with functional and original details.
We are talking about the X-Ray and X-Ray Pro collections, suitcases made in Germany in Senosan® polycarbonate, a light and resistant high-tech material, produced according to eco-sustainability standards.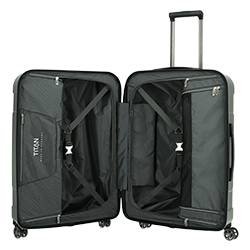 The hard shell spinners of both collections are characterized by an elegant design, the four smooth and silent double wheels, ideal for any type of surface, the adjustable aluminum bitubed handle, a detail that contributes to providing additional stability. The accuracy of the outer details is also reflected inside, with an accurate and precise distribution of the pockets and inner compartments.
A new locking system is added to the high functionality of  Titan X-Ray luggage with the X-Ray Pro collection, equipped with an innovative TSA lock with fingerprint, which makes each suitcase safe from theft but at the same time easy to open for its owner, just with a…finger! In addition to the fingerprint mechanism, the Pro collection adds a new high-tech detail with the side USB port, perfect for charging the digital devices; Titan also provides a carry-on model with a front pocket in fabric, a particular not common for rigid suitcases but highly functional, especially when traveling by plane and preparing for boarding procedures.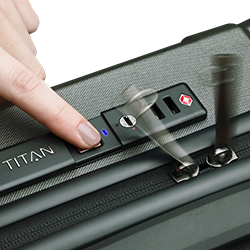 The proposed color palette reflects the elegant character of the collections: red and black are combined with a fascinating steel color (called Atomic Steel) that emphasizes the scratch-resistant texture of the exterior.
Although they are certainly suitable for business trips, the Titan suitcases of the X-Ray and X-Ray Pro collection represent the ideal solution for anyone who wants a suitcase with high performance and high quality materials, a product full of perfect accessories to facilitate who travels.