It's early in the morning and it's raining outside. What if there was a solution to cope with a gloomy day with a smile? The Doppler umbrellas are the ideal solution for every need and occasion, combining functionality and attention to detail.
Doppler Carbonsteel line encloses these elements in a collection of cutting-edge and resistant umbrellas, made of an alloy of steel and carbon. Tested in the wind tunnel at 100 km per hour, the Carbonsteel Doppler umbrellas are not only indispensable and reliable allies against the rain but also practical thanks to their lightness, functional and elegant, a real top of the range in the sector.
Available in a great variety of structures like the mini slim, the magic and the long automatic one, the Doppler Carbonsteel umbrellas vary in their length, which is respectively 22, 29 (for the short ones)and 90 cm (for the long ones), in their reduced weight, ranging from 192 gr of the pocket models to 592 gr of those in the long version, and in their diameter, which extends from 90 cm to 110 cm. Carbonsteel umbrellas are divided into four different lines, similar in characteristics and structure.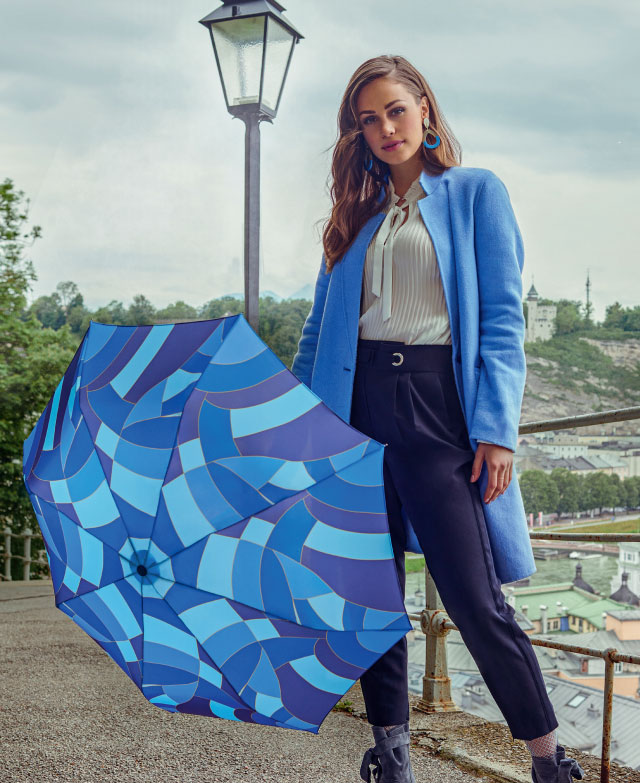 From the light-blues and blues and the trendy military green declined in the optical texture of the Euphoria line, we move on to the more traditional navy blue, black and berry color of the Passion line. There is no shortage of optical patterns in the Paris line with its blue and black variants and, last but not least, the Chic line, a must have for those who want to make their umbrella a real style accessory.
Available in the colors of berry, beige and dark blue, with micro-polka dot print, these elegant models testify how the Doppler brand aims not only to respond to the primary need for protection from the rain but also to complete the daily style of every woman, man and child, a real fashion accessory that, carefully chosen, can become a detail capable of bringing out one's personality.